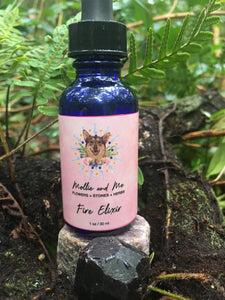 By filling out a consultation form and sending a picture of your pet (this is only for the four-footed ones) I will intuitively formulate an individualized elixir from the more than 50 essences I have wild-crafted. 
Due to the time and energy involved of tuning into your animal and mixing an individualized formula, a consultation fee is INCLUDED in the final price. Refills of the essence will be $20.
WHEN YOU PLACE YOUR ORDER PLEASE INCLUDE:
a picture of your pet
an email address so that consultation questionnaire may be forwarded
any details regarding pertinent behavioral, medical, environmental, emotional or spiritual issues 
EXPECT AT LEAST 1-2 WEEKS FOR FORMULA. THESE THINGS ARE NOT TO BE RUSHED. SPIRIT WORKS ON ITS OWN TIMEFRAME.
Stock Bottle Ingredients: Pure spring water, organic French cognac to preserve, flower and stone essences listed above.
For more info on what it's good for and administration please visit

 

FAQS page and blog

 

"WHAT'S IT GOOD FOR?"
Medical Disclaimer: This site is not designed to and does not provide medical advice, professional diagnosis, opinion, treatment or services . Through this site and linkages to other sites, Dr. Beug provides general information for educational purposes only. The information provided in this site, or through linkages to other sites, is not a substitute for medical or professional care, and you should not use the information in place of a visit, call consultation or the advice of your veterinarian. Dr. Beug is not liable or responsible for any advice, course of treatment, diagnosis or any other information, services or product you obtain through this site.